Throughout the course of the London 2012 Olympic and Paralympic Games, Richard DeDomenici presents a cryptic triptych of work designed to extrapolate the norms of acceptable behaviour in an increasingly accelerated culture.
A new solo street performance investigating the logical conclusion of vigilante justice in a hyper-vigilant world.
Dressed in black fatigues, and from a discreet distance, Richard DeDomenici navigates a remote-controlled bomb disposal robot towards people who have strayed more than a couple of centimeters from their bags. The robot has onboard cameras and a speaker through which DeDomenici will enquire:
"Is this your bag?"
DeDomenici will document whatever happens next.
Bomb Predisposal Unit will be a tangible way of bringing some of the security benefits of the London 2012 Games to the regions.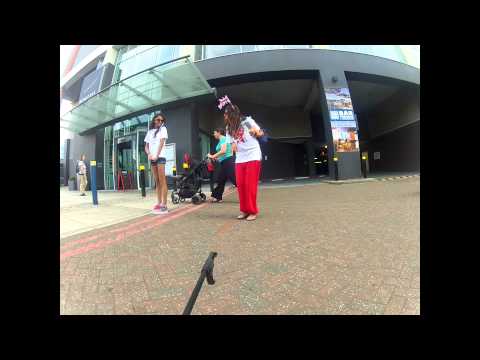 Working with geneticists from across the East of England, Richard aims to develop a sub-species that combines the best qualities of bees and wasps – creating the "basp". This new organism will embrace the ideals of the modern Olympic Movement; excellence, respect and friendship by combining the non-violent, honey-making skills of the bee with the independent, non-hierarchical tendencies of the wasp.
Once developed the successful basps will be released into the Olympic Park, which contains the UK's largest ever man-made wildflower meadow.
How To Disembark A Speeding Train
The Thames Gateway stretches 40 miles east of London and has been designated a national priority for urban regeneration. Home to around 1.6 million people, the area contains some of the most deprived wards in the country, characterised by lack of access to public transport, services, employment and affordable quality housing. The government hope to build 120,000 new homes in the area by 2016 to tackle the housing shortage in London and the South-East.
In 2007 The Channel Tunnel Rail Link/High Speed One was completed — the first major new railway in Britain for over a century. East of the Olympic Park the line passes through over 20km of the Essex Thames Gateway, yet no stations have been built until Ebbsfleet, south of the Thames in Kent.
Richard hopes that jumping out of a 300km/h Javelin service as it passes through Essex will stimulate support for a new station in the Essex Thames Gateway.