30th June 2012
Castle Park, Colchester
Hopscotch to Victory was an event held in Castle Park, Colchester as part of Sparks will Fly at Colchester Carnival. Live Art Collective East organised an attempt to break the world record for the most people playing hopscotch at the same time. We recruited people from all around Colchester and beyond to play the traditional playground game that spans generations and cultures and brought lots of people together in a celebration of sport, art and play.
We had 401 people playing on our giant hopscotch grid, containing 108 courts! Local notaries Christopher Arnold, Mayor of Colchester and Anthony Roberts, Director of Colchester Arts Centre and Chair of the Friends of Castle Park witnessed the attempt. There was official timekeeping from David Streetley from Colchester United Community Sports Trust and Paul Wright and Robert Needham, Colchester's Town Crier marked the beginning and end of the attempt. TV presenter Gareth Jones hosted the event. LACE artists Richard Dedomenici and Caroline Wright were in charge of proceedings, along with the rest of LACE, including Britain's only professional hopscotch team, Three Step Endeavour, who had their stadium on the side-lines and were ready with words of support for the crowds and demonstrations of the official rules of hopscotch.
The record stood at 358 people, so we had above and beyond the number of contestants we needed at 401! In order to beat the standing record, LACE must submit all the evidence gathered on the day to the Guinness World Record Association, who will decide if we qualify! We will announce the results as soon as they are in so watch this space…
A short film of the day, can be viewed here.
If you took part in Hopscotch to Victory or you were at the event, we would love to hear from you! You can post your photos and videos of the event online. Just email them to lace@artsadmin.co.uk or post them on our Facebook page: http://www.facebook.com/liveartcoleast
LACE would like to thank the following people for all their support for Hopscotch to Victory:
Magali Woodruff, Dan Woodruff and Dorian Kelly from Colchester Carnival, Will Jenkins and the Castle Park Rangers team, Robert Needham, Christopher Arnold, Anthony Roberts, David Streetley, Paul Wright, Gareth Jones, Iain Armstrong, James Whetherley, Simon, Zack and Noah Weitz, Jessica Denning, Priscilla Buschinelli, Rachel Snider, Lucy Jobber, Adam Dyster, Liz Hughes, Katie Huane, Matt Hudson and Colchester United, Stafford Glover, Mark Butchers and the Colchester Arts Centre team, slack space, Artsadmin, People Show, Joanne Matthews, Julie Keogan and the pupils of Montgomery School, Garrison FM, BBC Essex, Colchester Gazette, Steve Forster and of course, EVERYONE who took part!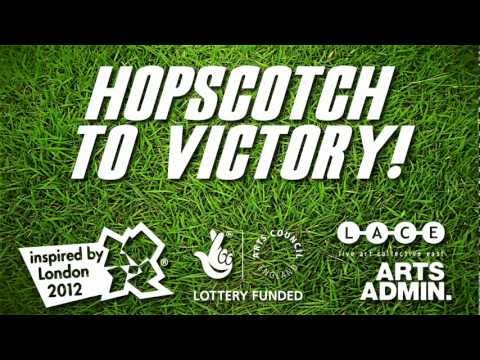 You can stay updated on Hopscotch to Victory by signing up to the LACE mailing list, following LACE on Twitter and by clicking 'Like' on the LACE Facebook page.
Film credits:
A film by Richard DeDomenici and Iain Armstrong
Featuring Caroline Wright, Holly Darton, Dot Howard, Vicki Weitz and the pupils of Montgomery Primary School, Colchester.
Narrated by Gareth 'Gaz Top' Jones.
Photos: S J Pinkney.